Cosmedico COSMOFIT tanning lamps allow erythema-efficient irradiance in compliance with the European standard. COSMOFIT lamps help you to make your tanning device easily and reliably compliant with EU legislation requiring maximum erythema irradiance of 0.3 W/m². COSMOFIT lamps provide optimum tanning results. The spectrum of each lamp is focused on the tanning responsive wavelength ranges to achieve maximum tanning performance.
New formula Improved Cosmedico phosphor technology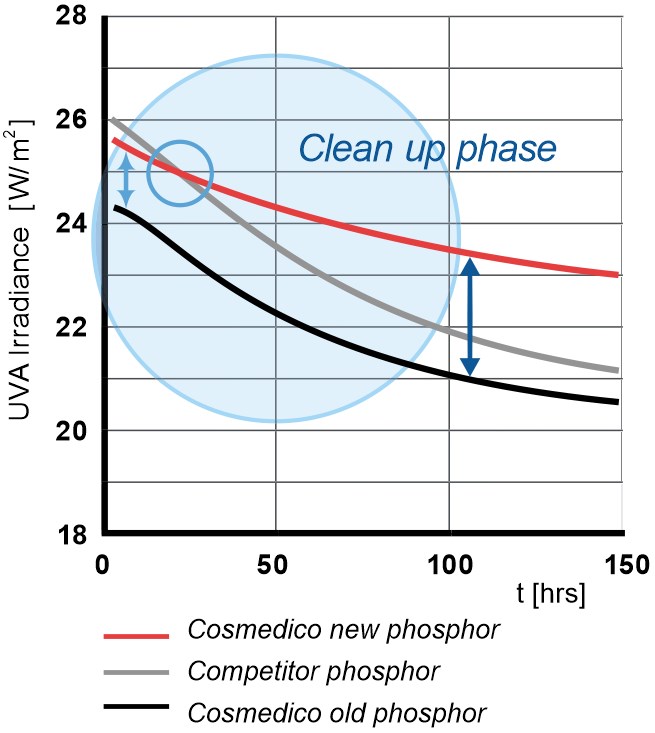 Improved direct pigmentation by direct UVA performance increase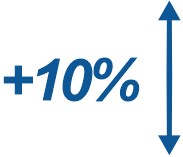 Increased UVA performance over
useful life after clean up phase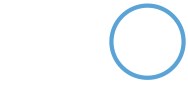 Turning point after 25 hours
The new UVA phosphor together with the modernization of our phosphor processing technology and the innovative overhaul of our phosphorcoating process lead to convincing product improvements in the new COSMOFIT+ range.
| Description | Wattage (W) | Length (mm) | SM / LM | Re-flec-tor | UVA Irrad. (W/m²) | UVA Flux (W) | UVB/ UVA % | UV-Code | Vitamize effect | Useful life (hrs) | Ordering code |
| --- | --- | --- | --- | --- | --- | --- | --- | --- | --- | --- | --- |
| Cosmofit+ 10 25W | 25 | 520 | SM | | 7 | 6 | 0.9 | 25-O-10/3,1 | ** | 500 | 10340 |
| Cosmofit+ 9 15W | 15 | 288 | SM | | 4 | 3 | 1.3 | 15-O-9/3,9 | *** | 500 | 10304 |
| Cosmofit+ R 19 120W 2.0M | 120 | 2000 | SM | * | 23 | 38 | 0.4 | 120-R-19/1,9 | ** | 800 | 16718 |
| Cosmofit+ R 20 100W | 100 | 1760 | SM | * | 21 | 31 | 0.4 | 100-R-20/2,3 | ** | 800 | 15176 |
| Cosmofit+ R 22 100W | 100 | 1760 | SM | * | 20 | 29 | 0.6 | 100-R-22/2,2 | ** | 800 | 30019 |
| Cosmofit+ R 24 120W 1.9M | 120 | 1900 | SM | * | 24 | 37 | 0.4 | 120-R-24/2,1 | | 800 | 15178 |
| Cosmofit+ R 24 180W 1.9M | 180 | 1900 | SM | * | 25 | 40 | 0.3 | 180-R-24/1,3 | * | 800 | 15177 |
| Cosmofit+ R 25 140W | 140 | 1500 | SM | * | 25 | 29 | 0.4 | 140-R-25/1,4 | ** | 800 | 30751 |
| Cosmofit+ R 25 160W | 160 | 1760 | SM | * | 21 | 29 | 0.4 | 160-R-25/2,6 | ** | 800 | 30066 |
| Cosmofit+ R 25 40W | 40 | 600 | SM | * | 16 | | 0.9 | 40-R-25/2,5 | ** | 800 | 15539 |
| Cosmofit+ R 27 100W | 100 | 1760 | SM | * | 22 | 32 | 0.6 | 100-R-27/2,7 | ** | 800 | 30010 |
| Cosmofit+ R 27 160W | 160 | 1760 | SM | * | 26 | 35 | 0.5 | 160-R-27/1,8 | ** | 800 | 16633 |
| Cosmofit+ R 28 160W | 160 | 1760 | SM | * | 22 | 30 | 0.4 | 160-R-28/2,6 | ** | 800 | 30712 |
| Cosmofit+ R 28 180W 2.0M | 180 | 2000 | SM | * | 24 | 40 | 0.5 | 180-R-28/2,2 | ** | 800 | 30009 |
| Cosmofit+ R 29 100W | 100 | 1760 | SM | * | 19 | 28 | 0.8 | 100-R-29/2,4 | ** | 800 | 15168 |
| Cosmofit+ R29 160W 1.75M-C* | 160 | 1760 | S | * | 20 | 29 | 0.6 | 160-N-29/2,7 | ** | 800 | 32092 |
| Cosmofit+ R 30 120W 2.0M | 120 | 2000 | SM | * | 20 | 33 | 0.9 | 120-R-30/2,8 | | 800 | 30008 |
| Cosmofit+ R 30 160W | 160 | 1760 | SM | * | 27 | 36 | 0.5 | 160-R-30/1,7 | ** | 800 | 30170 |
| Cosmofit+ R 33 160W | 160 | 1760 | SM | * | 24 | 33 | 0.6 | 160-R-33/2,2 | ** | 800 | 16646 |
| Cosmofit+ R 35 160W | 160 | 1760 | SM | * | 23 | 32 | 0.8 | 160-R-35/2,6 | ** | 800 | 30554 |
| Cosmofit+ R 36 180W 2.0M | 180 | 2000 | SM | * | 23 | 38 | 0.8 | 180-R-36/2,6 | ** | 800 | 16722 |
| Cosmofit+ R37 180W 1.9m | 180 | 1900 | S | * | 24 | 38 | 0.7 | 180-R-37/3,4 | ** | 800 | 31617 |
| Cosmofit+ R 40 100W | 100 | 1760 | SM | * | 21 | 30 | 1 | 100-R-40/4,0 | *** | 800 | 15169 |
| Cosmofit+ R40 180W 2.0m | 180 | 2000 | S | * | 25 | 42 | 0,7 | 180-R-40/3,5 | *** | 800 | 31618 |
| Cosmofit+ RCS 100W | 100 | 1760 | SM | * | 21 | 30 | 0.7 | 100-R-31/3,0 | ** | 800 | 10138 |
| Cosmofit R IQ 9 160W | 160 | 1760 | S | * | 23 | – | 1.1 | 160-R-49/3,0 | ** | 800 | 30109 |
| Cosmofit RCS-XTR 160W | 160 | 1760 | S | * | 25 | 34 | 0.7 | 160-R-44/3,4 | * | 800 | 31858 |
| Cosmofit RCS-XTR 120W 2.0m | 120 | 2000 | S | * | 22 | – | 1 | 120-R-43/4,0 | – | 800 | 15207 |
| Cosmofit+ RCS 80W | 80 | 1500 | SM | * | 20 | 25 | 0.7 | 80-R-29/2,9 | ** | 800 | 15520 |
| Cosmofit+ UVA Plus 100W | 100 | 1760 | SM | | 10 | 28 | 1 | 100-O-17/2,6 | ** | 800 | 10235 |
| Cosmofit+ UVA Plus 80W | 80 | 1500 | SM | | 10 | 22 | 0.9 | 80-O-15/2,7 | ** | 800 | 31313 |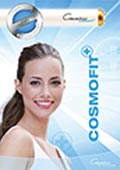 Cosmedico COSMOFIT+ Folder