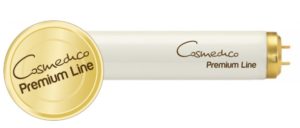 Seria Cosmedico Premium Line to najwyższej klasy lampy uznawane za jedne z najlepszych na rynku. W serii oferujemy lampy zarówno z krotką, jak i długą elektrodą. Oba typy charakteryzuje duża stabilność parametrów podczas całego okresu użytkowania oraz minimalny spadek mocy promieniowania UV. Cosmedico Premium Line to także świetnie dobrane spektrum promieniowania UVA odpowiadające za pigmentację bezpośrednią, czego efektem jest natychmiastowa i naturalna opalenizna już po pierwszej sesji.
Zalety Cosmedico Premium Line:
najwyższa klasa lamp stworzona na bazie starannie dobranych mieszanek fosforu
niesłychanie wysokie wartości UVA i silne właściwości brązujące
niezwykle stabilne parametry podczas całego okresu użytkowania
minimalny spadek mocy promieniowania UV
dłuższy czas pracy w stosunku do lamp konkurencyjnych
rewelacyjne efekty opalania i jeszcze więcej zadowolonych klientów!
| | Power (W) | Length (mm) | Elektrode* (SM/LM) | UVA (W/m2) | UVB/UVA (%) | UV Code | Efekt vitamize*** | Useful life (h) | Art. Nr. |
| --- | --- | --- | --- | --- | --- | --- | --- | --- | --- |
| Premium Line VHR 160 W | 160 | 1760 | LM | 36,5 | 2,4 | 160-R-139/7,8 | ** | 1000 | 30187 |
| Premium Line 800 VLR 160 W | 160 | 1760 | SM | 28,5 | 2,5 | 160-R-145/8,5 | *** | 800-1000 | 30516 |
  * – elektrode design: SM – short, LM – long
** – vitamize effect:    * good,  ** intense,  ***maximum

Premium Line CROSS TECHNOLOGY
Premium Line 800 CROSS TECHNOLOGY combines the best properties of UV and collagen lamps. The tanning process is more skin-friendly thanks to the lower dose of UVA needed to obtain a beautiful, deep tan, and you get even more additional benefits thanks to the scientifically proven properties of red light.
CROSS TECHNOLOGY
Due to the light frequencies used, in the range of 570nm to 720nm (mainly red and adjacent ranges from the visible light spectrum), in combination with the right level of radiative power, the effect of the UV light is definitely intensified. Stimulation of natural processes in skin cells, acceleration of metabolism, better microcirculation of blood and finally improved oxygen supply, make the pigmentation process stronger and the effects more visible. Despite the lower dose of UVA radiation, we get an extremely intense, while also natural looking and long-lasting, tan – often even better than from standard UV lamps. This unique synergy of different wavelengths distinguishes Cross Technology lamps from other hybrids available on the market.
TAN (UV + RED LIGHT)
Incredible effect – natural-looking, long-lasting, deep tan with beautiful golden tones;
A lower dose of UVA radiation makes the tanning process more delicate for the skin, but still incredibly effective;
Intense tan due to the synergy of UV rays and red light – not comparable with the effects seen when using other collagen-tanning lamps;
Better mood thanks to the increased production of endorphins;
Stimulation of vitamin D synthesis.
REVITALIZE (RED LIGHT)
Stimulation of collagen and elastin production;
Visible improvement in the structure of the skin and its hydration level;
Restoration of a natural healthy glow;
Reduction of wrinkles with recovery of skin firmness and elasticity;
Faster removal of toxins from the body thanks to improved cell metabolism.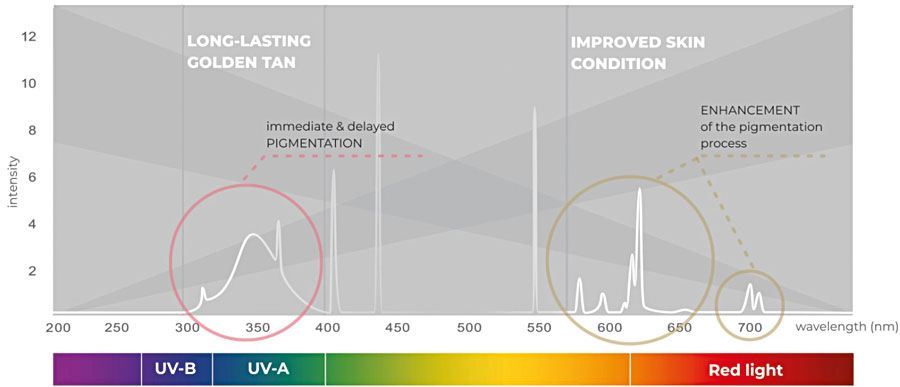 | | Power (W) | Length (mm) | Elektrode* (SM/LM) | UVA (W/m2) | UVB/UVA (%) | UV Code | Efekt vitamize*** | Useful life (h) | Art. Nr. |
| --- | --- | --- | --- | --- | --- | --- | --- | --- | --- |
| Premium Line 800 CROSS TECHNOLOGY R25 160/250 0,3EU | 160 | 1760 | SM | 16(27**) | 0,8 | 160-R-25/3,0 | ** | 700 | 31834 |
| Premium Line 800 CROSS TECHNOLOGY R42 160/250 0,3EU | 160 | 1760 | SM | 19(28**) | 0,8 | 160-R-42/3,9 | ** | 700 | 31604 |
| Premium Line 800 CROSS TECHNOLOGY R40 200/250 0,3EU | 180-200 | 2000 | SM | 19(28**) | 0,9 | 180-R-40/3,9 | ** | 700 | 31690 |
   * – elektrode design: SM – short, LM – long
 ** – effective power
*** – vitamize effect:    * good,  ** intense,  ***maximum